FortBonifacioRent - Blog & City Guides
High Street is considered the backbone of Bonifacio Global City, with shops and restaurants that extends along 1Km. of pedestrian walk path with parks and fountain in between.
The inner park hosts almost every weekend, activities and events, while during weekdays it's the preferred destination for residents to have just… read more →
St. Lukes Medical Center, the Hospital of Bonifacio Global City, it's a home for the advanced health care in the Philippines.
If you will need a place to stay just for few days near St. Luke's, our best advice is to check the two hotels nearby: F1 City Center, and… read more →
*** Latest Updates on constructions and new buildings for 2018 are now
here
***
—
2015 has been an exciting year for those who invested in Fort Bonifacio Global City. We have assisted and helped several unit owners during their turnover and acceptance of new condo units in Red Oak… read more →
With the increasing demand for nicely modern and contemporary furnished condo here in The Fort, some owners are now putting extra efforts (and money) in interior designing their units for rent.Modern and Contemporary actually represent two different concepts; with the first one being a well defined style that follows the…
read more
Burgos Circle, a public square located in the west area of Fort Bonifacio Global City, is one of the main landmarks where expats wish to be near to, when looking for an apartment to rent.
The main reasons are:
The proximity of Restaurants, banks, convenience stores, coffee shops all at… read more
Back in time 2014: – Skyline and Pictures of BGC: The Beaufort, Arya Residences, Fort Victoria, Icon Plaza, Shangri-La, Grand Hyatt.
BGC skyline taken from Trion Tower. The new hotels are coming: Ascott and Shangri-La on the left, and Grand Hyatt in the center background…
—–
The Beaufort and… read more →
Follow with us the updates for the new condominium projects in Fort Bonifacio Global City, on our page for Construction Updates!
The following are for reference purpose of year 2013.
For recent years check the new construction updates page.
The Trion Towers: Tower 1… read more →
Bonifacio Global City (or just BGC) is nested in one of the most exclusive residential districts or
barangay
in Manila: Barangay Fort Bonifacio. With a history spanning over a hundred years as the most secure and well-protected military headquarters in the capital, it is only natural that BGC is also…
read more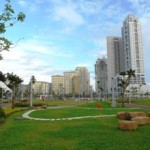 Bonifacio Global City (BGC) has a large advantage over other residential/business districts such as Makati and Ortigas: it was thoroughly planned from conception to current development.As part of this up-and-coming city's development plan, open spaces take precedence over simply plopping down a high-rise office building on every block. Welcome to…
read more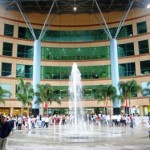 The small but growing city of Bonifacio Global City is home to roughly 40,000 people. The city is dotted with plenty of places in which to satisfy and meet one's day-to-day needs.
Supermarkets for Groceries and Essentials
The two 'outer edges' of Bonifacio Global City have the largest supermarkets in… read more →